T

his is my old darts page. For the new one, click here.
N

ever mind how long a piece of string is. Who cares whether chicken pre-dated egg? The real mystery facing modern man is in fact closer to home. Is darts a sport?
D

arts is no sport. It's an art form!

Darts is like astrology, each grouping forms a constellation, each constellation tells a thousand tales, each tale informs a thousand people, each person learns a thousand lessons.

-Me
Another one (some time in March 2008)
Bristow Laureate
Each maximum has its own poetry, its own music, its own place in our heart. Each carefully-paced, resounding cry of '180' becomes as eternal and free as the eagle's call. Only the dart player can truly appreciate the spirituality of the dull thud of tungsten on bristle, as three in a bed becomes an orgy of accuracy, a tribute to the hidden worth of our higher senses. It's a blend of grace, precision and beauty. Each ton-eighty renews as does the awakening of spring, a moment of sheer, unparalleled joy centred in a firey red zenith, the ultimate punctuation in a game of purest literature.
A couple completely unknown to me enjoy a fair game of 'arrers' in the Jolly Potters pub, Newcastle-under-Lyme, England.
Phil Taylor, World Champion for the 15th time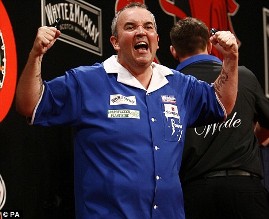 from www.bbc.co.uk
I can FEEL the 180 cry of the announcer
Thrown, NOT placed. Placing darts in a dartboard is plagiarism in its lowest form, an infringement of decency and an offence to the sensibilities of anybody who's ever felt the gentle weight of a dart in their hands, and sailed it into one of the four colours.
B

est sportsman in history, Phil 'The Power' Taylor won his 15th World Title in early January 2010 after beginning the tournament odds on favourite following a great season which has seen him consolidate top spot, and more importantly, his SELF-BELIEF!
N

obody can stop an in-form, confident Phil Taylor. Stand by for a few more 180s, the likes of which you see on the left (ah, sweet glory).
Darts is a clash of experience, ability and belief. No matter how strong the gladiator, there is nothing he can do to prevent his opponent from playing well. It is more a question of mental stamina than physical ability. The main factor in a player winning, aside their ability and confidence, is an ability to cope with something that dart players call 'bullying'. Not the playground variety of course, but the mental battle that two players fight on and aside the oche. Even I can throw 180s, from time to time anyway, and it takes some skill, but doing it in a match is a big step up from doing it in the comfort of my own home. The difference between a good pub player and a county player, and those between every level from there up, is the ability to react to the pressure of the situation and sustain the performance level when your opponent is landing darts with daunting precision.
It's tempting to say that my own darts tended to behave more when witnesses were absent. But bad workmen are very transparent. My inability to take high scores into matches meant simply that I was outclassed by my opponents even before the game started. Knowing when you are beaten drops your three dart average by a good ten or so.
ANOTHER !!!
Admittedly, this is the same 180 as the one above, from a different angle. But it's one step closer to the magical nine-dart finish.
This confidence factor is not something unique to darts. But the precision we need to land consistently high scores depends quite wholly on the steady arm, which depends on a steady posture. The slightest tremor registers in the arm, the throwing action receives this and sends the dart well off target. Millimetres in the wrist equals inches on the board. So playing well and playing badly may seem the same to non-dart players (that incidentally is part of the reason more people don't take to darts, a bad game seems the same as a good game), but for us there is a swear word of a difference.
There's no doubting that Phil Taylor is the best player ever to pick up a dart. But if he ever doubted this it might lose him a game. For a while after he lost the PDC 2007 final to van Barneveld he lost his invincibility and a losing streak set in. You see, previously, although he hadn't won every single game, he was basically unstoppable. The master of self-belief, simply not capable of believing a game lost. This year's PDC got off to a good start, and his self-declaration of 'I'm back, stop me if you can!' was nicely backed up with a few strong performances.
Phil 'The Power' Taylor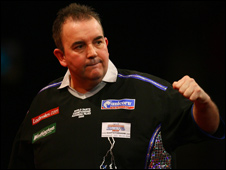 from www.bbc.co.uk
But it's about time this two world championships lark was sorted out. It must be 15 years now. The best players seem to be in the PDC, they throw better averages during the tournament and the big names are all there too. Who's the biggest name in the BDO? Martin Adams? This guy's a great player but not fit to lace Taylor's shoes, IMHO. Put simply, the world darts championship is the PDC. The other one's just been around longer.
The only shame for the PDC is that none of its stars are household names. Ask your average bloke or woman on the streets to name a dart player and you're likely to get Bristow, Lowe, Jocky Wilson. Maybe a few would say Phil Taylor, but the PDC move to Sky TV and the total lack of characters to be found in the BDO means that there's a veil of anonymity over the sport. I suppose many people know Andy Fordham, looking somewhat 'withered' having slimmed down to 25 stone.
Darts is of a higher standard today, the players are not so much slimmer but tend to take give the game more respect. There are more people playing darts worldwide than ever before, and more nations send players to compete at higher levels than before. But the golden age of darts was the era of Bullseye, of Jocky Wilson nobbling Eric Bristow before he picked up one of his two world trophies. And until the two bodies get their act, and themselves together, it's not going to change.
I have to say I agree with Eric Bristow about the inclusion of the Russian girl, Dobromyslova? in last year's PDC championships. Trina Gulliver was a great champion for many years and was never invited. But faces sell, and the Russian has quite a pretty face to have up there on the oche. Said Ms Gulliver wouldn't quite rouse the lads in the same way. Sorry, it's reality, darts is not a sexy sport, they need to take what chances come their way.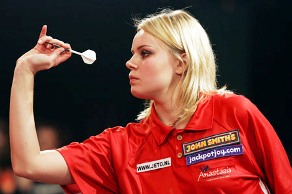 from www.bbc.co.uk